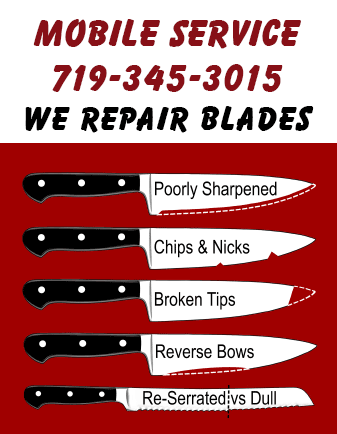 2021
Farmers Market Schedule
DENVER
​
Every SATURDAY, 9:00 - 2:00
May 8 - October 30
Cherry Creek Fresh Market
​
Every SUN, 9:00 - 1:00
May 23 - October 10
Highlands Square
​
(Subject to change

without notice.)
With over 40 years in the cutlery industry, Colorado Knife Sharpening brings our mobile shop to your community, providing expert knife service and blade repair.
We HAND-SHARPEN (and Repair)
• Kitchen Cutlery
​• Serrated Knives
​• General Use and Pocket Knives
• Ceramic Knives
• Single-Bevel Japanese-style Knives...
... all while you wait. We also provide a consistent, repeatable edge.
We correct edge & blade geometry – so your knives will work as designed.
We teach blade & edge maintenance – so your sharpening will last and last.
"You take care of the cooking, we'll take care of your knives!"